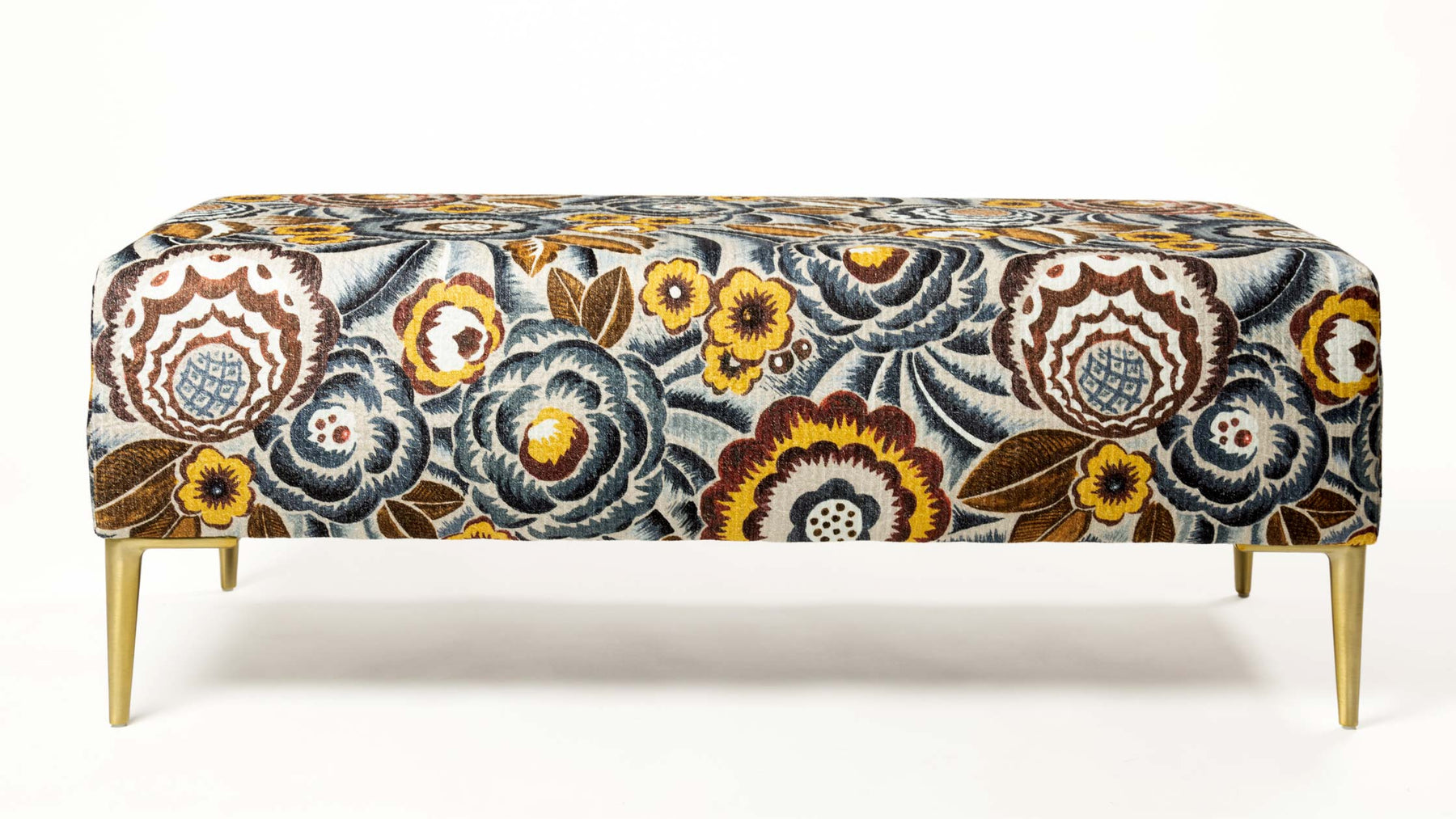 A Fabulous Floral Ottoman
We are excited to share with you our latest fabric ottoman creation.
A remarkable floral ottoman that is a bit different from our usual cowhide ottomans. This bold statement piece was great fun to make. The confident and daring floral fabric was exactly what our customer was looking for.
Jane is one of our valued customers who recently discovered us online. Jane was looking for a seating solution for her entryway, a place where visitors could take off their shoes easily. She was immediately drawn to one of our previous fabric ottomans, which sparked her interest in exploring more options for her entryway.
We embarked on a collaborative design journey with Jane, asking thoughtful questions to understand her preferences and style.
After carefully considering various fabric samples, Jane selected this exquisite autumn-toned crushed pile velvet floral. The rich hues perfectly complement her existing décor, and it gives her entryway the pop of personality it needs.
To further enhance the ottoman's allure, and to match a gold toned mirror, we decided that our old gold legs would be the ideal match. The combination of the bold floral fabric, with the elegant gold legs, creates a harmonious fusion that exudes sophistication, charm, and whimsy.
We are immensely proud of this unique fabric ottoman; it is a true statement piece that will instantly elevate any space it graces. Whether you place it in your living room as a focal point or use it as an accent piece in your bedroom or entryway, this ottoman is sure to steal the spotlight.
Please get in touch with us at Gorgeous Creatures if you would like to explore your own fabulous fabric ottoman. We look forward to helping you transform your living spaces with elegance and style.
Visit Gorgeous Creatures while in the Hawkes Bay
8 Otatara Rd, Taradale, Napier 4112 (by appointment please call or text first)
Kirsty Mason Ph 027 222 6230
showroom@gorgeouscreatures.co.nz 
Facebook page