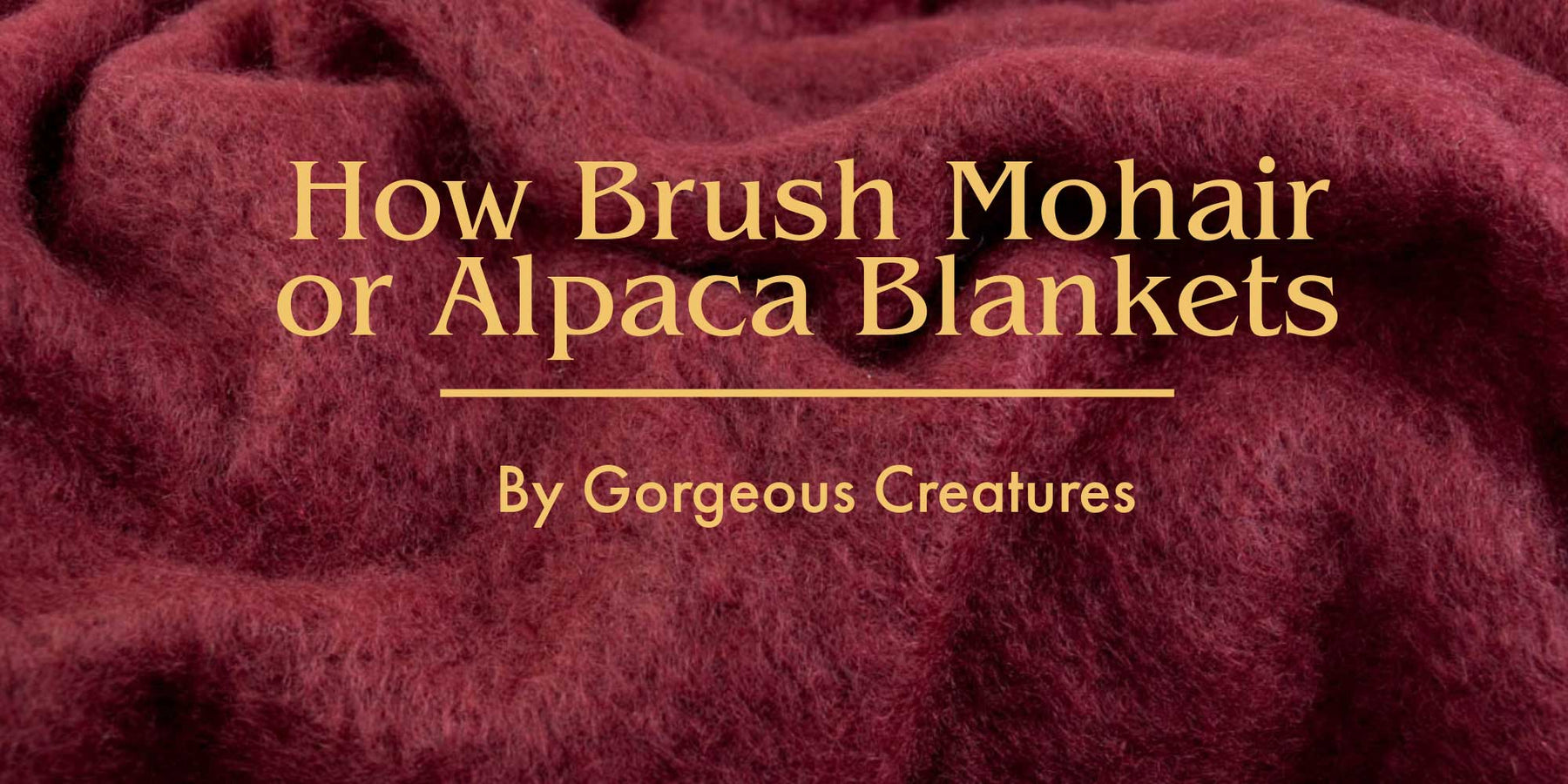 How to Brush a Mohair or Alpaca Throw or Blanket
Enjoying the warmth and softness of a mohair or alpaca throw blanket is a delightful experience, but with normal use, these sumptuous fluffy blankets can become tangled and messy.
Fear not! This is easily remedied by a gentle brush using the right tools and techniques. In this guide, we'll walk you through the proper steps on how to brush your mohair or alpaca throw, ensuring it stays as soft and beautiful as the day you brought it home.
Choosing the Right Brush:
Selecting the correct brush is crucial in maintaining the integrity of your mohair or alpaca throw. Avoid using plastic hairbrushes with balls on the end of the bristles, as they can catch and break the delicate fibers. Opt instead for a natural bristle hairbrush or a soft plastic nailbrush without balls. The goal is to detangle the fibers without causing too much damage or breakage.
Determining the Right Direction to Brush:
Believe it or not, there's a right and a wrong direction to brush the wool pile. This is the trick! The correct direction will result in a flatter and smoother appearance while removing knots. While the wrong direction will cause the fibers to fluff up and tangle even more.
To determine the right direction, start by testing a small area by brushing in both directions towards the top, and then towards the bottom. Watch carefully to see which lays flat and which puffs up. Also, test by brushing side to side both ways.
Once you're confident in the correct approach, gently brush the entire blanket in that one direction. Support the blanket with a flat surface underneath, and use your hand to stop it from moving. For a visual guide, check out our brief instructional video. 
Video Tutorial:
To further assist you in mastering the art of mohair and alpaca throw care, we've created a video tutorial. Finding the correct direction to brush is better understood when you can see it. This visual guide will walk you through the brushing process, ensuring you have a hands-on reference to complement the written instructions. 
Related Article:
Interested in comprehensive care for your mohair or alpaca throw? Don't forget to check out our blog on "How to Wash a Mohair or Alpaca Throw." This guide will provide you with valuable insights on keeping your throw clean and pristine, enhancing its longevity. Always lightly brush your throw or blanket before you wash it to avoid the hair becoming matted.
About Our Mohair Throws:
Our mohair throws and blankets are meticulously crafted in New Zealand, showcasing the exceptional quality and craftsmanship of this region. Available in two convenient sizes, choose between a single chair throw or a double/queen bed blanket to suit your specific needs.