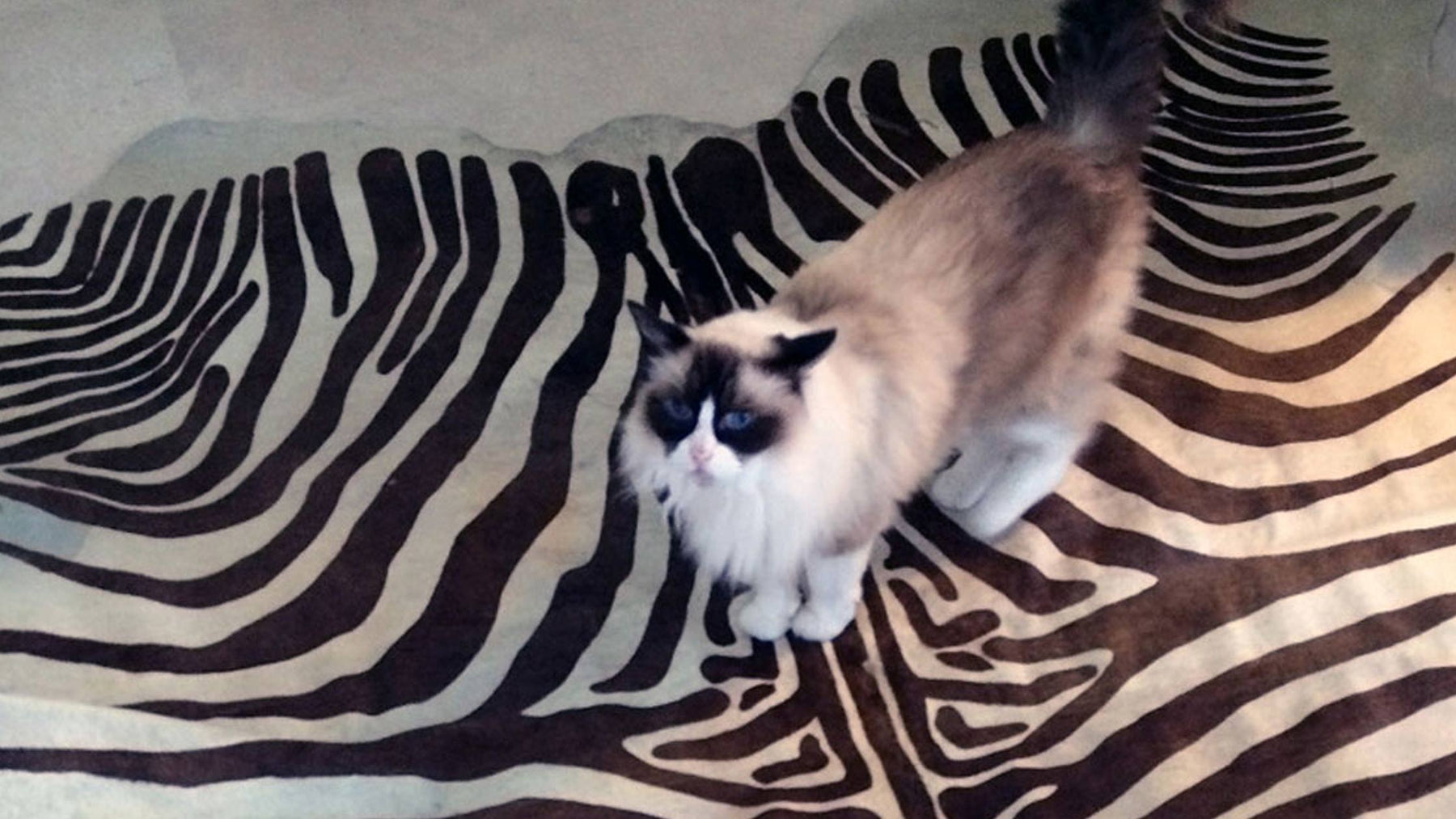 Cleaning Animal Pee Smells Off a Cowhide Rug
Cowhide Cleaning Case Study - Cat Pee
Do you want to know how to clean-up fresh cat pee, or even old cat pee smells from your cowhide rug quickly and easily?
Well it turns out that with the right tools it's really easy. Here is a great real life example. But first here is the background story.
We received a desperate call for help from Jill in Australia. She had a cowhide rug with a bad cat pee problem!
"Hi Kirsty and the Gorgeous Creatures team, we have a beautiful zebra print cowhide we purchased on the Sunshine Coast in Queensland many years ago. We love it, it's very special and still in great shape. Sadly, our aging Rag-doll cat Mango has taken a bit of a shine to it, and she's peed on it a few times."
She had already tried a few cleaning techniques to rescue her beloved cowhide rug but nothing had worked long term, the terrible cat pee smell kept coming back stronger than ever.


"We had a local rug cleaner clean it professionally earlier in the year. The smell persists, and it's one of those annoying cases where the original spill is now not visibly obvious – you know it's there because you can smell it, but you can't see it.
"To find the source of the offending odour, you have to pretend like a vacuum cleaner and get down on your hands and knees with nose to the rug and sniff all over it to find the spots where it still smells."
But things got even worse...

Jill even got to the point where she couldn't have the cowhide rug in the house as the smell got progressively worse and worse after she moved to a new house.
Leather does absorb humidity and moisture over time and if bacteria from the old cat pee accident remain in the leather, the bacteria continue to multiply and the smell becomes more noticeable again.
"We have just moved and the cat pee smell seems more noticeable now (not sure how that works, but the smell is definitely stronger!). We were going to have our regular guy clean it again, but since that wasn't a resounding success last time, I did an online search for cleaning cowhide and found you, the Gorgeous Creatures!"

What happened next was amazing...

We sent Jill a bottle of our cowhide cleaner product, and she gave it a go.

We hadn't been able to test the cowhide cleaner on an old ingrained animal pee smell, so she agreed to test it for us and report back.

The results were outstanding!

"I'm happy to report that the zebra cowhide has been back in our living room for almost a week now, and we can detect no cat pee smell in it. This is great news! And it means we can continue to enjoy our zebra cowhide, hopefully for many years to come.
"This was seriously in jeopardy, as when we first moved in late last year and placed the cowhide in the living room, the cat pee smell became overpowering – you could smell it the instant you came into the room (and could still be vaguely detected in the carpet after the cowhide had been removed)."
So that's a positive result. This is what Jill said next...
"A combination of airing out the cowhide, which we did for a few weeks, and using your product Cowhide Cleaner are jointly responsible we believe for getting rid of the cat pee smell which we feared was so ingrained into the cowhide as to never be removed."
"Even when you try the "bloodhound test" (as I call it, where you get down on hands and knees and sniff repeatedly all over the cowhide), no cat pee smell can be detected. It's a miracle!"
There is logic to her comments. This is what we think happened.

By airing the cowhide outside the cowhide was allowed to dry out. And sunlight also helps to kill bacteria and mould. But the cowhide cleaner penetrates into the leather fibres, and kills the bacteria deep inside the leather.

This is what makes the Gorgeous Creatures cowhide cleaner so special - this cleaning product is safe to use on the leather as in non-ionic.
So the moral of the story is... it's never too late to clean your cowhide rug. Just keep in mind that this cowhide cleaner is not a stain remover.
Cleaning the rug properly also helps to prevent future animal pee incidents, as the rug smells less like the animal's toilet area. And you will know that the rug is sanitized, and safe for your family.
Why do cats or dogs keep peeing on our beautiful rugs?
Some animals are creatures of habit and will toilet in the same place over and over. Some animals - especially male dogs or cats - also mark territory, so once they can smell themselves, they keep refreshing the smell and a message to other animals!!!

So if you have a cat or dog in your family AND a cowhide rug, you need this cow skin cleaning product in the cupboard BEFORE your animal pees on your rug. Because it will happen eventually. 

The sooner you can treat the animal pee the more likely it is that you can rescue your rug and continue to enjoy it for many more years.
Visit Gorgeous Creatures while in the Hawkes Bay
8 Otatara Rd, Taradale, Napier 4112 (by appointment please call or text first)
Kirsty Mason Ph 027 222 6230
showroom@gorgeouscreatures.co.nz 
Facebook page