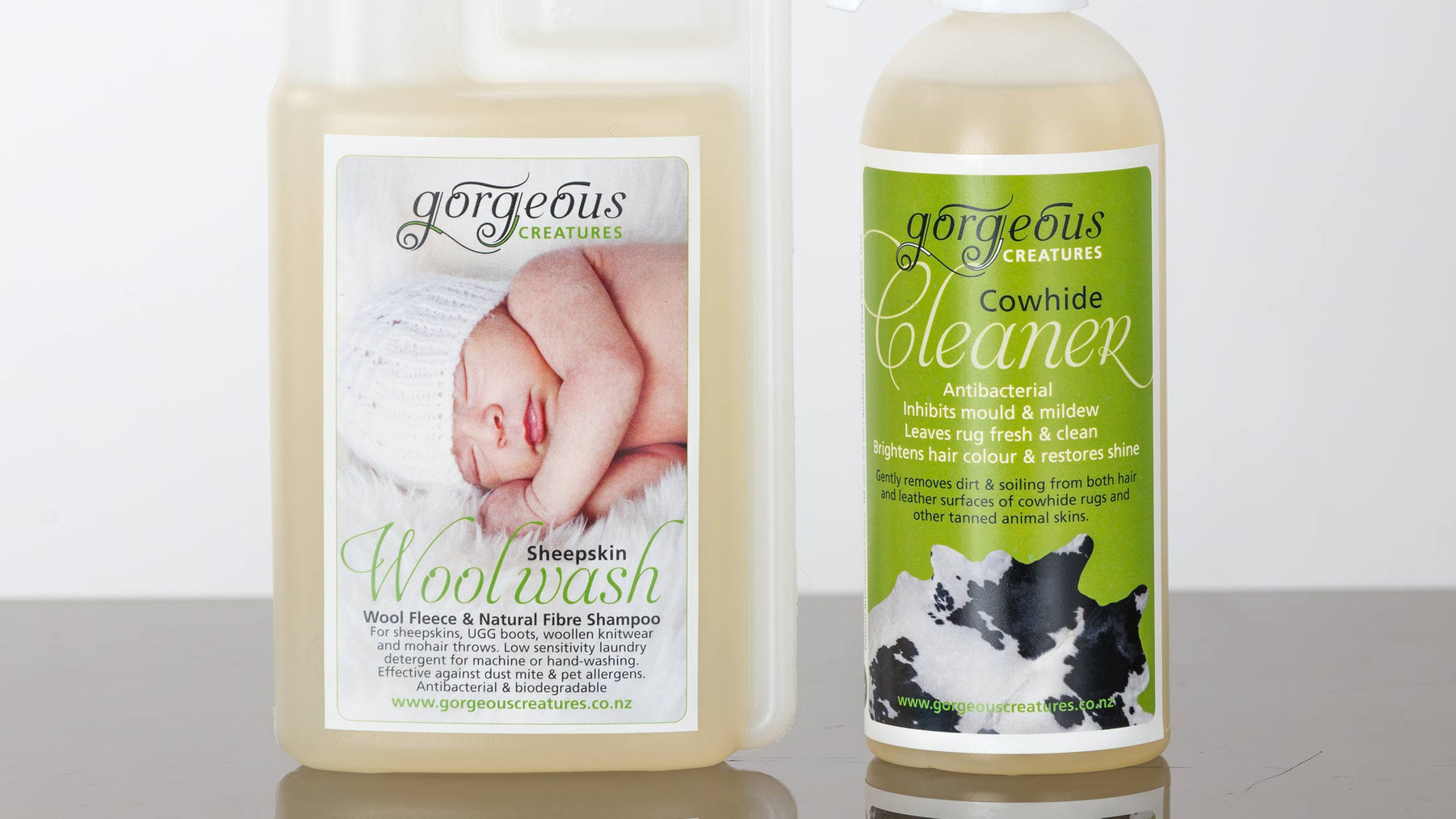 Ingredients in Gorgeous Creatures Cowhide Cleaner & Woolskin Wash
Our two very specialized Gorgeous Creatures cleaning products have similar ingredients, but in different proportions for their different uses.
The cowhide cleaner is already diluted to the perfect strength formula so that you can simply spray on & wipe-off your cowhide rug. Cleaning your cowhide rug at home has never been more quick and easy.

The woolskin wash is a concentrate that can be diluted as needed, depending on the washing situation. For example the hand-washing or machine washing of sheepskin rugs and other natural fibres.
The wool wash concentrate makes between 125 litres to 250 litres of wash solution for a top loading or front-loading washing machine.

Both of these products are non-toxic and non-ionic, but they are still a cleaner and contain cleaning elements.
We wouldn't recommend ingesting (drinking) either of these products.
And keep these cleaners out of your eyes or irritation may occur, just like it would if you got chilli or lemon juice in your eye.
Don't be scared by the technical names of these ingredients - we have tried to explain them in plain English.
Cowhide Cleaner & Woolskin Wash Ingredients
NON-IONIC SURFACTANT FOR CLEANING
A wetting agent that makes the cleaner spread and clean better, by making dirt attract and absorb water more efficiently.
MICROBIOCIDE ANTIBACTERIAL
A non-toxic antibacterial safe for humans in the minuscule traces in our formula but kills germs like bacteria and viruses.
SULFATED FATTY ALCOHOL POLYGLYCOLIC ETHER AS DISPERSANT
Dispersants work much like a detergent soap that you use to clean grease from your dishes (but dispersants are less toxic). They contain sticky molecules that attach to oil, reducing the surface tension between oil and water, and making oils easier to clean off.
SULFATED OILS NEATSFOOT OIL AND COCONUT OIL FOR CONDITIONING
Conditioners put the good oils back in, to condition and soften the hair and leather using water-soluble oils. This keeps the leather supple during the cleaning process and helps stop the leather from getting stiff.
MELALEUCA OIL BLEND INCLUDING TEA TREE OIL & LEMON MYRTLE OIL
A wonderful blend of medicinal germicidal essential oils that kills dust mites, and have natural antiseptic and anti-fungal properties. This also smells fantastic and is a deodorizer.
Visit Gorgeous Creatures while in the Hawkes Bay
8 Otatara Rd, Taradale, Napier 4112 (by appointment please call or text first)
Kirsty Mason Ph 027 222 6230
showroom@gorgeouscreatures.co.nz 
Facebook page