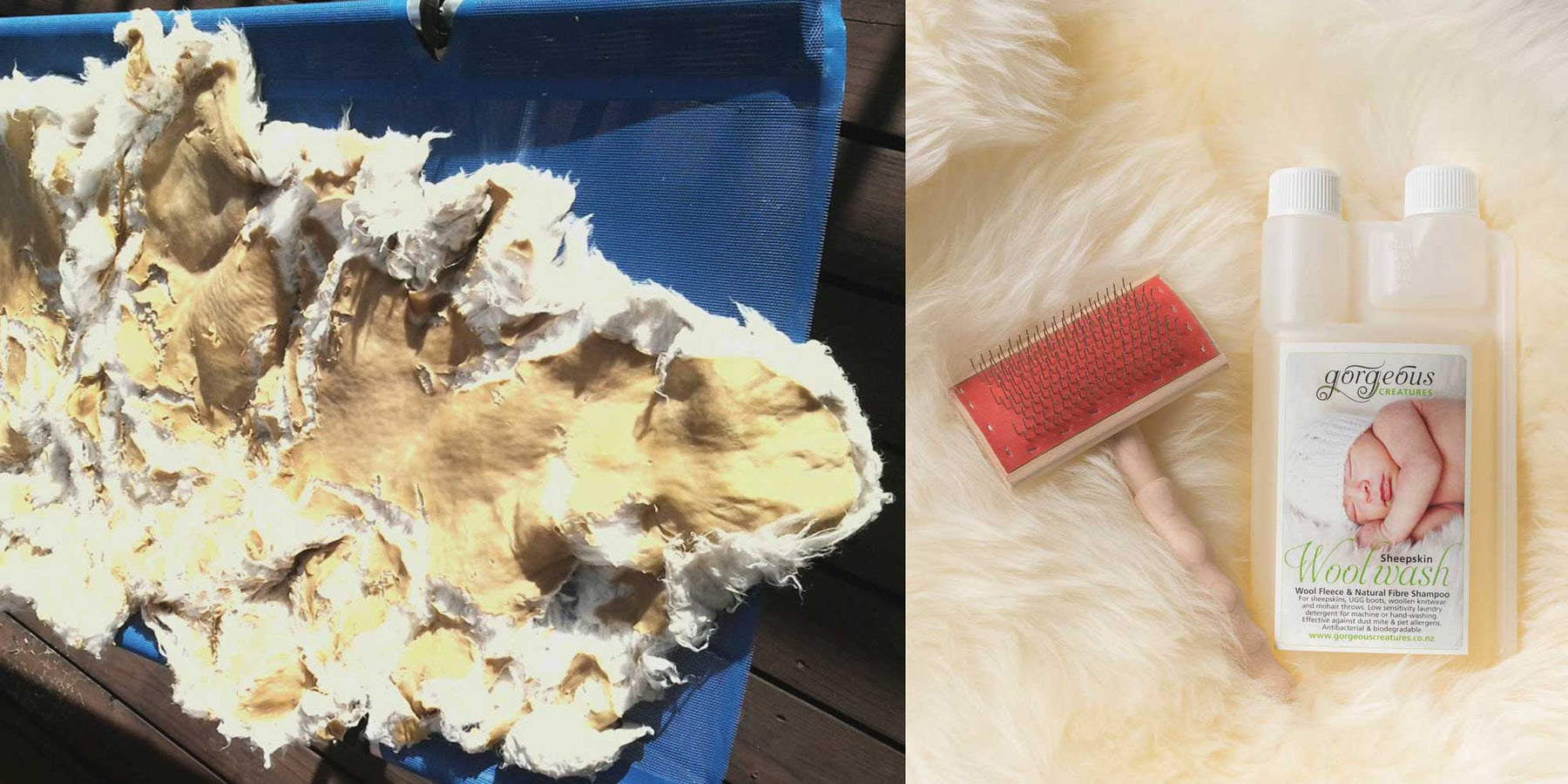 Seven Things You Need To Know BEFORE You Wash A Sheepskin Rug
1 - The leather backing will never be as soft as when your sheepskin was new
That's right folks! I'm sorry to say that when you wash a sheepskin rug, the leather will never feel as soft as it did straight from the tannery.

Depending on the tanning process used, some sheepskins come out pretty good, as long as the drying process is nice and slow, and you use the correct woolskin shampoo.

But even with the correct woolskin wash we could never make it as nice and soft as a tannery can.
One pro-tip is to beat the back of the sheepskin with a wooden stick once it is dry. Peg it onto the clothesline and wack the leather side a lot.
When the sheepskin was originally made this is one of the steps that softens the leather. So let's see if it works for us.
See full sheepskin washing instructions on this page.
2 - That yellow aged colour will never wash out
If your sheepskin rug was natural ivory/white sheep colour when new, and now years later it has gone yellow, this is the wool aging, and the cellulose in the wool oxidizing and changing colour.

So exposure to the atmosphere (oxygen), and also UV sunlight will make a sheepskin rug go yellow over time.

It might take 10-20 years but it will happen eventually, and the yellow colour can't be washed or bleached out. There is not much that can be done to prevent this as it is the natural aging process of cellulose.
3 - Old sheepskin rugs that are more than 10-15 years old are high risk to wash
It is very very high risk to wash a sheepskin rug that is 15-20 years old or even older. I know it would be nice for your grandchildren to have the sheepskin you had as a child, but it's probably better that you buy them a new sheepskin.
As sheepskin rugs age, the leather can slowly deteriorate and perish. The leather may look and feel OK, but once it gets wet, the leather fibres can disintegrate.

Especially if an older sheepskin rug has never been washed before, and then suddenly at the age of 20 or 30 years someone decides to wash it, the leather may fall apart.

If a sheepskin rug has been washed a few times during its life it seems to be able to handle washing a bit more easily. We don't know why.
It is particularly important to use a leather safe non-ionic washing solution with older leather, as there is less room for error.

Be very gentle with an older sheepskin when it is wet. Spinning in a washing machine might be too much force, and it might tear the skin apart.
Also when the older sheepskin is wet it can be heavier than when dry and fragile, so handle with care and support the skin.
4 - If the leather backing goes hard there is not much you can do to fix it
We don't know of any magic cures for the sheepskin leather going hard and crunchy. We can't recommend any creams or oils to rub onto the leather to make it soft again.
The leather can go hard for a number of reasons. Here are a few common issues.

The sheepskin may be old, and the leather fibres have dried out. Washing old leather can "shock it", and cause the leather fibres to constrict and shrink.
Or the tanning process may not be suitable for washing. Unless you know exactly how your sheepskin was tanned, (and 99% of the time you don't), then washing sheepskins always carries some risks. Generally, Chrome tanning and White tanning are OK to wash. 

Or if you use the wrong type of shampoo, that is not safe for leather, this can result in very stiff dry sheepskin leather.
5 - If you don't brush out the knots before you wash a sheepskin bad things will happen
Some people think it's OK to skip the first step in the washing process, which is to thoroughly brush out a sheepskin rug before washing.
This untangles knots in the wool, that will potentially become matted into felt if you don't brush the sheepskin wool first.

If you let the wool matt up, you will never be able to untangle it after you wash it.
The easiest way to beautiful fluffy wool on your sheepskin rug is with good brushing first, using a wool carding brush.
6 - You shouldn't wash sheepskins that have been dyed
It can be very hard to tell if a sheepskin has been dyed a colour. Some skins that look light cream or champagne have probably been dyed that colour, (a common natural sheep is an ivory off-white colour).

If you wash a dyed sheepskin there is always a risk of the colour changing, or a chemical reaction may happen with the dye and cleaning products.

Other darker or brighter dyed colours are more obvious, but the same issues apply.
Plus the dark or bright dyes can run more, and a lot of colour can be lost in the cleaning/rinse water. Black or red sheepskins are bad for doing this.

Adding a big spoonful of iodized common table salt can help to act as a dye fixative, and minimize dye loss or leakage.
But the colour change or reaction with a lighter colour can actually be more of a problem because any chemical reactions can be seen more clearly on lighter colours. 

Get dyed sheepskin rugs dry-cleaned by a good quality dry-cleaner, with experience in cleaning sheepskins.
7 - Sheepskins need to dry very slowly
To get the best results when you wash a sheepskin rug you need to allow the leather to dry slowly. This helps to avoid the leather going hard and stiff. 

Air dry for about 7-10 days and then finish off in a dryer on a very LOW heat setting. Make sure you clean out the lint filter several times, or the dryer can overheat and scorch the leather or even start a house fire. 

A dehumidifier can assist the drying process, by creating a dry environment and sucking excess moisture out of the leather slowly.
See full sheepskin drying information on this page.
Visit Gorgeous Creatures while in the Hawkes Bay
8 Otatara Rd, Taradale, Napier 4112 (by appointment please call or text first)
Kirsty Mason Ph 027 222 6230
showroom@gorgeouscreatures.co.nz 
Facebook page