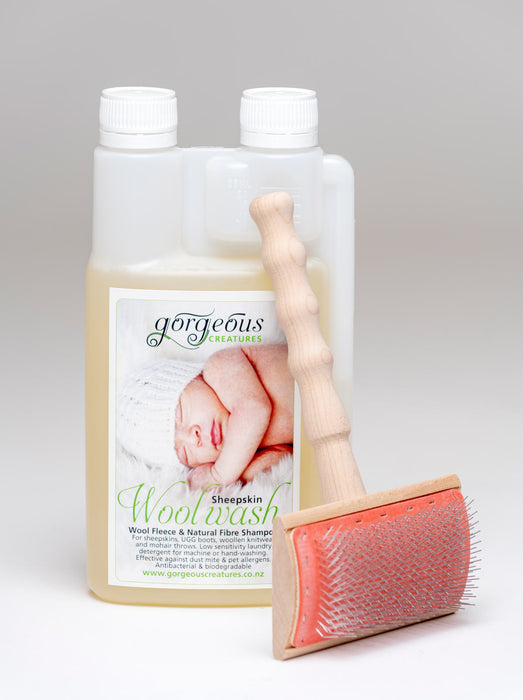 Sheepskin Wool Skin Kit - 500ml Concentrate Shampoo & Carding Brush Set
Original price
$35.00
-
Original price
$35.00

Exclusive to Gorgeous Creatures

Versatile Product Multiple Uses

Safe For Leather Non-Ionic


The perfect non-ionic shampoo to wash a sheepskin or lambskin rug, UGG boots, mohair & wool throws and blankets, woolen or possum merino wool garments.

The two things that you need to successfully wash a sheepskin rug (wool on real leather). The safest wool-wash and the wool carding brush as a set.
Non-Ionic low irritant laundry detergent. Non-toxic and antibacterial. This wool fleece & natural fibre shampoo is so versatile it can be used for a wide range of purposes.
This 500ml concentrate wool wash formula can make between 125 to 250 litres of wool wash depending on the dosage. So it will last for a long time and has many uses. 
VIDEO - How to wash a sheepskin rug at home
Read our blog article - Seven things you need to know before you wash your sheepskin rug.
The ingredients in the wool wash are explained in this blog article. 
Safely wash sheepskin and lambskin rugs (non-ionic so safe for the leather), baby Lambie rugs, UGG boots, sheepskin wool underlays, cashmere, mohair, angora, alpaca or any type of wool blankets, all woolen garments and knitwear. 
Wash your sheepskin & lambskins rugs knowing the leather will be unharmed
Wash your woolen jumpers, sweater - anything made from knitted wool
Wash cashmere or mohair throws and blankets
Wash your sheepskin UGG boot, Lambie blankets and wool underlays
Wash children's toys & favourite blankets (and know that they are really clean and sanitized!)
Wash duvet inners, pillows and bedding - to insure a safe, clean and sanitised place to sleep for the whole family
Wash gym clothes & shoes - reduces occurrence of body odour & fungal infections
Wash delicate underwear & lingerie - reduces occurrence of fungus/thrush and skin infections
Low sensitively laundry detergent - great for people who are allergic to normal laundry detergents
Suitable for machine or hand-washing
Effective against house dust mite & pet allergens
Non-toxic, antibacterial & biodegradable
Colour safe and natural -  a pleasant mild Tea-tree oil scent
Can be used with septic systems and grey water outlets
Meets clean-ability standard of the Merinomark
NOTE:- if a sheepskin is very old say 10 years plus the leather may become hard and brittle if washed. Over time leather fibres dry out and perish. There is no way to know if this will happen until you try to wash it sorry.
We also sell this wool wash on its own for NZ$29.95 and the wool carding brush on it's own for NZ$34.50.
Easy Washing Instructions
Best results are obtained by using the recommended dosage. Always refer to care labels in garments.

How to Measure Concentrate Wool Wash
Remove cap from measure chamber only
Gently squeeze bottle until contents reach the desired level
Pour into wash and re-cap measure chamber
Measure 20mls for small load into the washing machine
Measure 40mls for large load into the washing machine
Machine Washing Instructions - Top or Front Load Machines:
Measure correct amount of wool-wash
Select wool or gentle cycle and load size
Double rinse
Sheepskin rugs & woolen garments – use cold or warm water –NEVER HOT WATER
Machine wash on wool wash or gentle cycle
Gentle spin ensuring the load is balanced
For sheepskins, best results are achieved by tumble drying in warm/low (NOT HOT) dryer. Or allow to slowly dry flat away from direct heat or sunlight.
For larger items like double sheepskins or blankets, best results are achieve by hand-washing in a bath tub.
 
Hand Wash
Measure 20ml for each 10 lt of water into wash tub or bath.
Use COLD or WARM water.
Place sheepskin or wool garment into the diluted solution and gently squeeze hand washing for approximately 5 minutes.
Rinse thoroughly with COLD or WARM water until water is clear. DO NOT STRETCH.
Squeeze out excess water and allow to drain, (you can spin out excess water on a SLOW spin cycle on your washing machine)
DO NOT WRING DRY, allow to dry flat and away from direct heat and sunlight
For sheepskins, best results are achieved by tumble drying in warm/low (NOT HOT) dryer.
See our blog for more information and full sheepskin washing instructions..
 
Washing UGG Boots
Most UGG boots can be washed in a washing machine as per laundry instructions for sheepskin.
Spot cleaning UGG Boots
Apply a small even coat of diluted shampoo to the area to be cleaned. Using a damp sponge or white cloth wipe gently remove soiling. Continue to wipe until all the shampoo is removed. Dry with a clean white towel. Allow to dry naturally.
 
Colour safe - May be used as a low sensitivity laundry detergent for people with allergies to normal laundry detergent. Can be used with septic systems and grey water outlets.