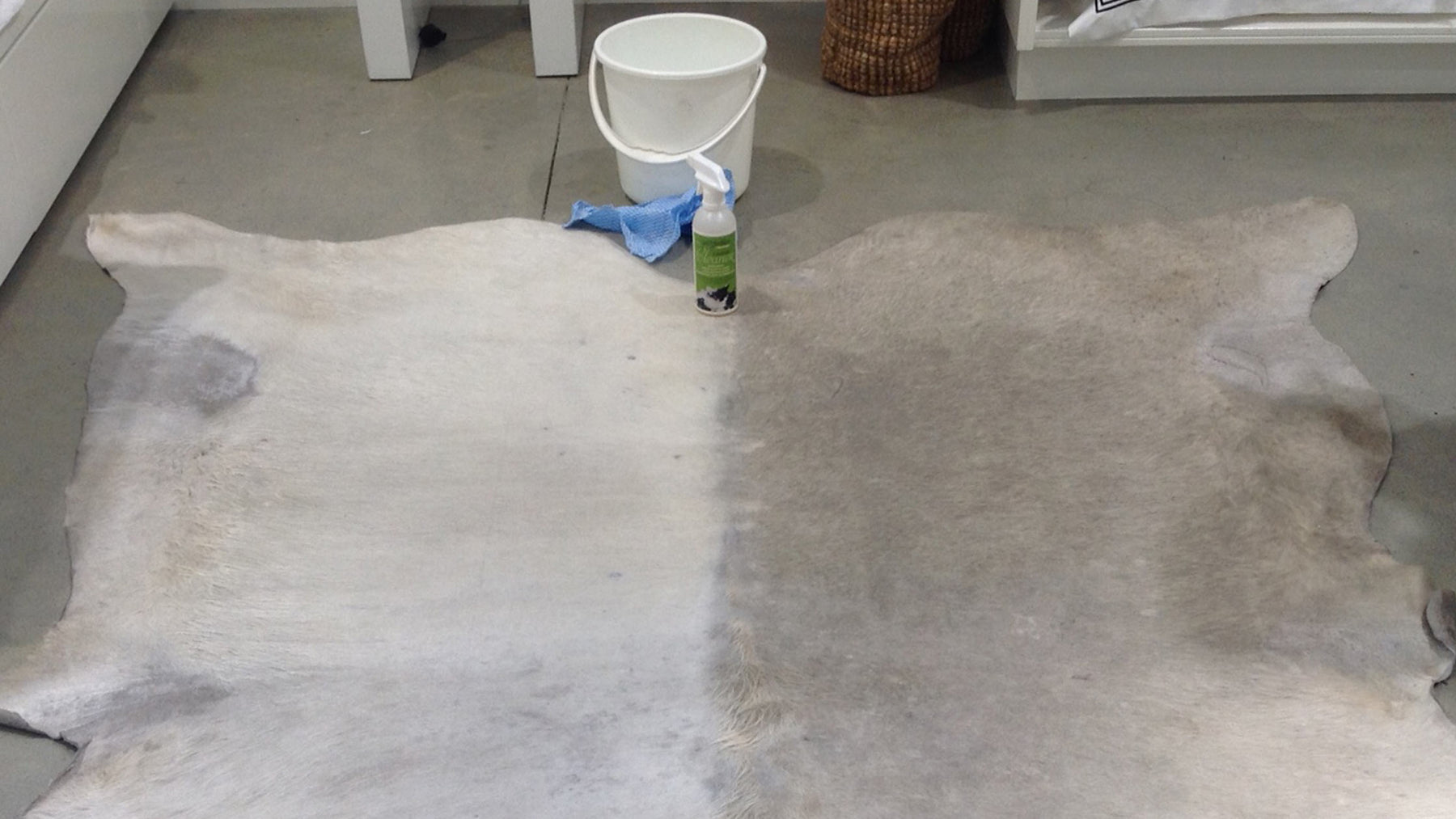 Cleaning a Very Dirty White Cowhide Rug
Cowhide Cleaning Case Study - A White Cowhide
About ten years ago we sold a white cowhide rug, to a local bedding & home-wares shop. The rug was displayed on the floor, near the front of the shop entrance.
The shop receives heavy foot traffic, with people bringing in road dirt and grime from the footpath on the soles of their shoes.
And I'm sure a lot of dirt also blows inside from the atmosphere, in the form of car exhaust fumes and construction dust.
Over the years I know they tried to clean it a few times, but with limited success, as it wasn't easy without a proper product that was purpose-made for the job.
They recently bought our Gorgeous Creatures Cowhide Cleaner product which is non-ionic and safe for the leather.
What happened next even amazed us.

I was blown away when they sent us a progress photo halfway through the cleaning process using the cowhide cleaner.
This is an extreme example, but that white cowhide rug was desperate for a clean.
As you can see, the left side they had already cleaned has come up looking great, even while still wet (it will look even better once dry), and the right side shows the dark grey colour of the dirty hide.

The cowhide rug was cleaned in sections as per the product instructions.
Apparently, the rinse water was black for the first application, grey for the second and third applications, and was almost clear for the final application.
Remember this was an extreme case - cowhides don't normally need four cowhide cleaner applications and rinses. This was a tough job.
A normal hide if properly maintained, will only need one simple application every 3-6 months for a good general clean.

So if that isn't proof that this cowhide cleaner works, then I don't know what is!
The Gorgeous Creatures cowhide cleaner has been specially developed for this purpose, and it does a great job. Give it a go!
Visit Gorgeous Creatures while in the Hawkes Bay
8 Otatara Rd, Taradale, Napier 4112 (by appointment please call or text first)
Kirsty Mason Ph 027 222 6230
showroom@gorgeouscreatures.co.nz 
Facebook page