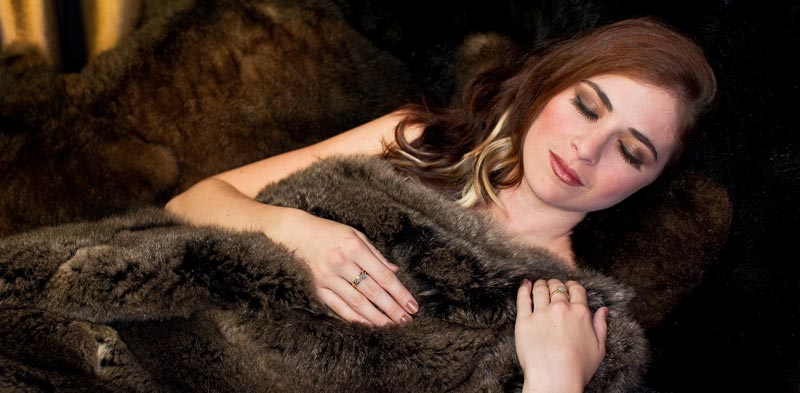 Spot Cleaning Possum Fur at Home Or Dry-Cleaning
Most NZ possum furs are tanned using a standard technique called "fur dressing". Fur dressing is ok, but you can NOT get it wet at all.
Fur pelts will warp and shrivel if you get "dressed" fur pelts too wet.
From June 2017 Gorgeous Creatures have decided to change our tanning technique to one that while more expensive, is also much easier to maintain and clean.
Using this special tanning technique means that a possum fur throw or fur blanket will survive if it gets a little bit wet, and you can spot clean more easily and successfully.
You still CANNOT wash fur of any kind. We assume that most other possum fur brands use "fur dressing" for most natural possum fur products.
So follow these simple instructions, and do not use too much water or get the leather pelts wet, unless you know exactly how the furs where originally tanned.

At home, minor spills on possum fur throws and blankets can be soaked up with a paper towel or sponge.
It is possible to gently wipe the fur with a clean damp cloth or sponge, but make sure that no water gets through to the leather underneath the fur.
For oily spills use very very fine sawdust (untreated and not pine) soaked in white spirits. Rub gently into the dirty area of fur, leave for 1/2 an hour and then brush out all the sawdust.
You can rejuvinate flat possum fur using an iron. Iron the fur with brown paper in between the fur and the iron, this fluffs it up again.
All cleaning that you do at home based on this blog is done at your own risk. If in doubt please use a professional fur cleaner or dry-cleaner who knows how to handle furs.
Brush your possum fur throws and blankets regularly but gently with a carding comb type brush. We sell a sheepskin brush with metal prongs and this keeps the fur from tangling and fluffs it up to look like new. But use with care, so you don;t tear the leather or seams.
Be careful not to tear the leather but don't worry if the brush seems to be pulling out some fur, this is just the loose hairs that naturally occurs at the base of the possum pelt.
Dry-Cleaning Possum Fur
All furs should only be cleaned by a high quality professional dry-cleaner. This is a very specialized process, and uses special chemicals and techniques.
No matter what other websites say, furs cannot be dry-cleaned like fabric, it is not that simple, not all dry-cleaning companies have the right skills or chemicals.
It really does use a special set of chemicals (hydro-carbons), and other techniques to clean fur properly to extend its life, so don't be fooled.

Sometimes the backing on the fur throw or fur blanket needs to be removed and treated separately if it is badly soiled.
The fur specialist will then check your fur for any weakened areas or holes, and repair or replace fur pelts if necessary.

Email or call us to discuss options ph +64 9 522 1050. All cleaning is done at your own risk.
Visit Gorgeous Creatures while in the Hawkes Bay
8 Otatara Rd, Taradale, Napier 4112 (by appointment please call or text first)
Kirsty Mason Ph 027 222 6230
showroom@gorgeouscreatures.co.nz 
Facebook page