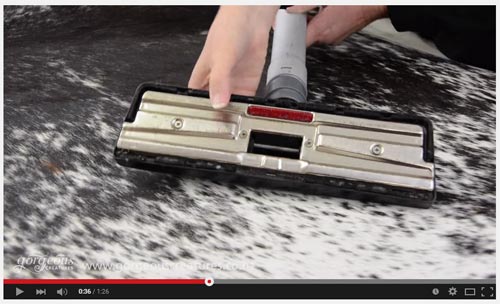 Three Tips to Vacuum a Cowhide Rug
A cowhide rug is one of the easiest rugs that you can own if you know a few simple cleaning tricks.
Generally, all the rug will need is a weekly vacuum. However, if you do feel your rug needs a better cleaning due to a spillage or accident find out how to wash a cowhide rug.
Tip number one:- If you can reduce the suction power on your vacuum cleaner then drop the power down to the setting for something like upholstery or curtains.

Tip number two:- Set the head of your vacuum cleaner to the hard floor setting with the brush in the down position so that you are brushing the rug at the same time as sucking up the dust and dirt.

Tip number three:- Stand in the middle of the cowhide and vacuum from the middle pushing the vacuum towards the outside edge - and run off the edge of the cowhide. Repeat this as many times as needed changing positions until you have turned in a full 360-degree circle and vacuumed every part of the cowhide rug.

If there are still some things stuck in the hair of the cowhide after vacuuming then a brush with a large plastic bristle-type scrubbing brush will loosen the stubborn dirt and another vacuum should be able to remove the loosened dirt easily.
Visit Gorgeous Creatures while in the Hawkes Bay
8 Otatara Rd, Taradale, Napier 4112 (by appointment please call or text first)
Kirsty Mason Ph 027 222 6230
showroom@gorgeouscreatures.co.nz 
Facebook page