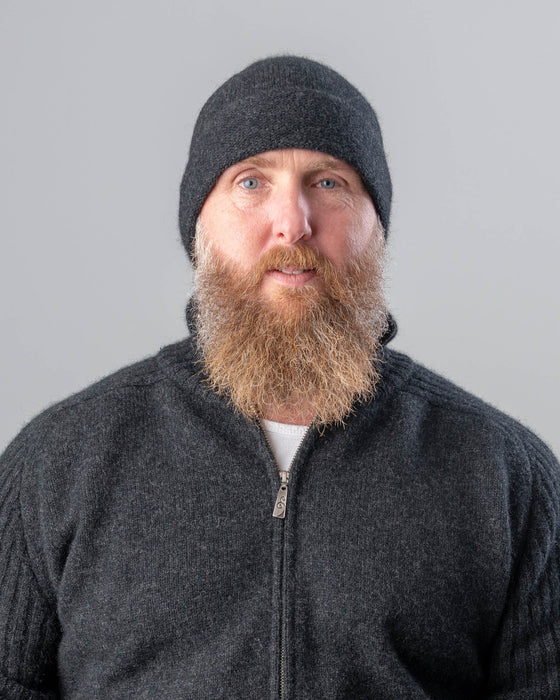 Charcoal Plain Beanie Hat - NX101
Original price
$25.00
-
Original price
$25.00

Blend 30% Possum 60% Wool 10% Nylon


Unisex Colours Suit Everyone

Knitwear Made in New Zealand
Introducing the Charcoal Grey Plain Possum Merino Wool Beanie by Native World – a simple wool beanie made in a luxurious blend of nature's finest fibres to keep you warm and stylish in any weather.
Crafted with care and precision, this unisex classic charcoal beanie is firmer fitting, hugging your head to stay in place, featuring a turned-back band that you can adjust to suit your head. Our best selling beanie!
It embodies the perfect combination of 30% possum fur, 60% merino wool, and 10% nylon for strength, creating a product that not only looks and feels incredible but also offers superior warmth and comfort.
The possum fur in this beanie is sourced ethically, making use of a New Zealand natural resource that is both sustainable and environmentally friendly. And it is made in New Zealand.
Possum fur is renowned for its incredible warmth-to-weight ratio, ensuring that you stay cozy without the bulk. The addition of merino wool further enhances the insulation properties, providing an extra layer of breathable and moisture-wicking softness against your skin.
Whether you're hitting the slopes, exploring the great outdoors, or simply braving the winter chill to walk the dog, this simple Charcoal Possum Merino Wool Beanie will be your reliable companion.