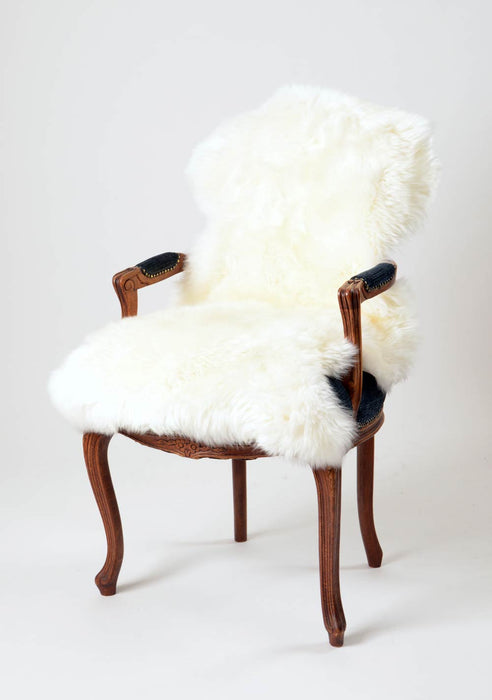 Ivory Wool Sheepskin Rug - Large Single Skin
Original price
$83.00
-
Original price
$83.00




Usually Ships in 1-3 Days
A single natural ivory sheepskin rug made in New Zealand. A large sheepskin rug that is guaranteed a minimum body length of 105cm from head to tail.
Average whole-skin sheepskin dimensions 60cm x 105cm. Wool pile height is a minimum of 5cm (2").
Natural Long-wool New Zealand sheepskin rugs are soft & fluffy. This rug is a large single whole New Zealand sheepskin rug (no joins or patches).
These ivory sheepskins are the natural ivory white colour of a New Zealand sheep (a blush of creamy ivory). They are perfect as a soft throw over a chair or sofa, or at the end of a bed.
Wool fibers are very resilient and will bounce back to their original springy appearance.
A vigorous shake will help restore the soft, fluffy appearance of the wool. Any fold marks from packaging will disappear once the skin has been removed from the package for several days. 
Washing
Machine or hand wash your sheepskin in warm water (38°C/100°F) using the 
Gorgeous Creatures Woolskin Wash
. Spin to remove excess water.
Drying
Dry your Sheepskin flat or on a line and stretch to shape while damp. Keep away from direct sunlight and artificial heat. Tumble dry your Sheepskin on LOW. Take care not to place the sheepskin on a radiator, steam pipe or in front of a fan heater as this may damage the Sheepskin. Do not iron or bleach the Sheepskin.
Brushing
After washing, the wool may revert back to its natural curly state. You can help restore the fluffy appearance by brushing the wool while it is wet and again when it is dry using a 
sheepskin carding brush
.