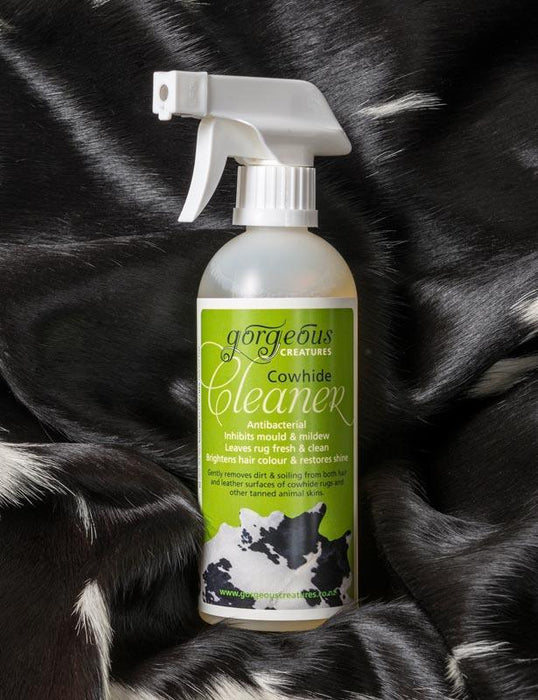 Cowhide Cleaner - 375ml Spray Cleaner to Clean Animal Skins
Original price
$20.00
-
Original price
$20.00

Exclusive to Gorgeous Creatures

Cleans Freshens Smells Great

Safe For Leather Non-Ionic


Don't let the dirt set! If you own a cowhide rug you need this special cowhide cleaning product in your cupboard BEFORE an accident or spill happens.

Keep your cowhide rug looking brand new! The sooner you can treat a spill the more likely it is that you can rescue your valuable cowhide rug. Cleaning also greatly extends the life of your cowhide rug.
Introducing our Gorgeous Creatures Cowhide Cleaner - the ultimate solution made especially for cowhide rug owners. Don't wait for spills and accidents to happen, be prepared with our specialised cleaning product that will save your valuable cowhide from any mishap, and extend the life of your rug.

With the Gorgeous Creatures Cowhide Cleaner, you can treat accidents and spills promptly, ensuring that your rug remains pristine and avoiding stains. Our non-toxic and non-ionic formula is not only gentle on your delicate rug but also effective in removing dirt, odors, and restoring its natural shine.

Investing in a cowhide rug is an investment in style and luxury. So why not protect it? Make our Gorgeous Creatures Cowhide Cleaner an essential part of your cleaning routine and prolong the life of your beautiful cowhide rug.
The cowhide cleaner bottle comes with a secure cap and a separate spray nozzle that you screw on before you use the cleaning product.
What makes this cleaning product different, is that this cowhide cleaner is designed to be safe for the hair AND the leather and is non-ionic. 
Our cleaning product is non-ionic, non-toxic, environmentally safe and can be used with septic systems and grey water outlets.
This antibacterial cleaning product is perfect to clean up after animals or children have been sick, pee'ed or had diarrhea on your cowhide rug, cowhide ottoman, calfskin, deerskin or any other tanned animal skin.

Use this special cowhide cleaner to solve these cleaning problems:-
Dust, dirt, mud and general grime on a cowhide rug
Red wine, orange juice or any spills
Food spills, chocolate sauce, jam, peanut butter, squashed fruit and other food
Oil, grease and fat, Spaghetti Bolognese sauce, tomato sauce, Asian cooking sauces
Dog or cat urine (wee) or excrement (poo) on cowhide rugs
Dog, cat or child throw-up on cowhide rugs
Cowhide rugs that children have drawn on with coloring-in markers or crayons
Makeup on a cowhide (don't ask us how makeup gets down there!)
Cowhide rugs that have been caught in a flood, and are wet and dirty
Use this cowhide cleaner on these items:-
Cowhide rugs
Cowhide covered ottomans and furniture
Cowhide patchwork rugs
Calfskin rugs
Goatskin rugs
Deer skins like red deer or fallow deer

Do NOT use this cowhide cleaner on fur, like possum fur or fur coats as we have not yet tested it on these things, and don't know what will happen. This is for
hair
not fur (which is very different).
So how do you clean a cowhide rug? 
For common spills or accidents like red wine, coffee, tea, juice, food, soup, cat or dog urine, poo and vomit - soak up or wipe up spills with a paper towel or sponge as soon as possible.
Remove any solid matter (like cat vomit) with the blunt edge of knife by scraping gently in the direction of the hair. Try not to push nasty accidents deeper into the leather. The Gorgeous Creatures cowhide cleaner is antibacterial.

Lightly spray your cowhide rug with the Gorgeous Creatures cowhide cleaner treating a small area at a time, complete one section before starting the next. 

Wipe the cowhide vigorously in any direction with a damp (but not wet) clean cloth to spread the cleaner over the hair.
Do not soak the hide or get it too wet. Rinse the cloth in fresh water and wipe again to remove any residual cleaning solution until clean. Repeat if necessary until clean.

Wipe the whole hide with a clean dry towel to remove as much moisture as possible. Dry the cowhide flat and slowly away from direct heat and sun.
Our cowhide cleaner is not a stain remover which is why it is so important to treat spills immediately. Don't let spills sit on the cowhide surface and dry.
Watch our amazing video that demonstrates the cowhide cleaner using common spills like red wine, jam, tomato sauce, soy sauce, oil, butter, cat food & urine.